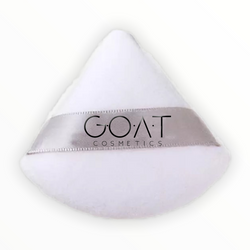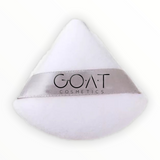 GOAT COSMETICS VELOUR PUFF
What it is:
A specially designed setting application puff with a soft, luxurious texture that conforms as needed to pick up, hold, and apply setting powder.

What it does:
Our Velour Puff was created  to be used to apply the our amazing Loose Setting Powders to create a soft-focus, matte finish. It easily conforms to the contours of your face to set the powder for lasting wear.

What else you need to know:
Our Velour Puffs can be washed with our brush soap or machine washed in a lingerie bag. Our Loose Setting Powder is sold separately.
Suggested 
-Saturate the Velour Puff with Our Loose Setting Powder.
-Remove excess powder by tapping the puff on top of your hand.
-Gently press puff on the skin, using a rolling or tapping motion to "work" the powder into the skin to set makeup.
-The key is to not see powder when you put it on; the result is soft-focus skin with a matte finish.
-Use it for application to all areas of the face.