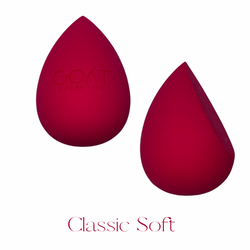 Our latex-free Classic Soft Sponge is ideal for delicate areas of the face, spot concealing and more! The plush texture offers an ultra-soft bounce against skin, perfect for under the eyes, around the nose or over sensitive imperfections.
This multitasking sponge features our stunning logo etched directly onto the back for a lavish look. Our innovative, unique foam features less pores, leading to a more flawless coverage and less wasted product.
TIPS:
Try using our Classic Soft Sponge as a second step! Going over already applied cream and liquid products with a clean, damp sponge easily distributes any extra product that may be laying on top of the skin. Simply press in a gentle rolling motion to diffuse, blend and melt products into place.
• Minimal absorption
• Latex-free, silicone-free
• Eco-friendly, non-toxic
• Vegan, cruelty-free