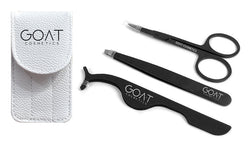 GOAT Lash/Brow Grooming Kit
What it is: A three-piece kit that features a Lash applicator, precision Scissors, and Precision Tweezers housed in a limited-edition, GOAT Cosmetics faux leather case 

Product Callouts: It is  cruelty-free and comes in recyclable packaging.
Our Lash/Brow Grooming Kit is a must have for everyone ! Our grooming kit brings 3 stainless steel tools that will quickly become part of your daily routine. 
Lash applicator 
tweezers 
scissors 
Wether you are applying your lashes or defining your brows do it  with professional precision. We just made it so much easier by putting all 3 in a small travel friendly leather pouch !
GOAT Precision Tweezers
A stainless steel Tweezer with a custom- Slanted top and calibrated tension to pick up the smallest of brow hairs.
GOAT Precision Scissors
A sleek , soft touch, ultra thin stainless steel scissors
Lash Goals Lash Applicator
Sleek, soft to the touch Lash applicator allows for easy lash application.